BlueBay Resorts
August, 23 2022
252
0
Beachfront
Pool
Resort ID: 30570
Location: Multi Destinations , Various Locations , Mexico, International
BlueBay Resorts
Blue Bay Getaway is a beachfront resort for adults only and All-Inclusive plan with unlimited food and beverages at 5 different restaurants and a swim-up bar. Offers four whirlpools, daytime activities, watersports, tennis, bicycles, gym, theme night dinners.
Guests can use also amenities and facilities of the sister hotel Blue Bay Club and Marina, which is located in Punta Sam. Daytime complimentary transportation by boat or bus between resorts and to local discos at night.
Blue Bay Getaway has 220 spacious rooms, all have air conditioning, terrace or balcony, 2 double beds or 1 King size bed, satellite TV and bathroom with shower.
Blue Bay Getaway Cancun Restaurants & Bars
Bellavista Restaurant: A la carte steak house specialties. Reservation required.
Bikini Bar: Pool side and swim up bar.
Diego�s Bar: Open air bar to enjoy refreshing drinks.
El Embarcadero: Breakfast lunch and dinner buffet style.
L�alternative: Music and drinks in this pleasant video bar.
Las Margaritas: Mexican cuisine, buffet style for dinner.
Nice Shoes Bar: Video Bar with music, drinks and lots of fun.
The Village Wok: A la carte Chinese cuisine for dinner.
Zucchini: A la carte Italian cuisine for dinner. Reservation required.
Blue Bay Club Cancun Restaurants & Bars
El Palmar: International Buffet.
Fajita�s Grill: A la carte mexican style food.
Ostras & Oysters: A la carte mediterranean style.
Poolside and Bikini�s Bar: Two pool bars with international and domestic drinks, and a lot of fun.
Tequila�s Bar: Enjoy your favorite drinks in a great atmosphere.
Theater: Live performance shows at night, daily.
Aquamarina Beach Hotel Restaurants & Bars
El Ancla: Wet Bar in the main pool.
La Isla Bar: Beers, refreshments and caribbean cocktails.
La Palapa: A la carte International specialties restaurant with a typical caribbean atmosphere.
Las Perlas: Buffet Restaurant serving Mexican cuisine.
Lobby Bar: Movie attractions, sports and variety shows, while you drink your favorite cocktail.
Snack Bar: Facing the pool. Mexican snacks.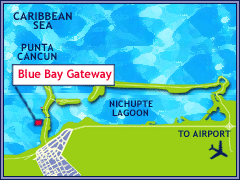 Location
Blue Bay Getaway is located on the beach in the heart of the Cancun beach hotel zone, just minutes away from shopping centres, restaurants and discos. 20 minutes from Cancun International Airport.
All-Inclusive Resort!!!
HOTELS ADULTS ONLY RESORT!!!
Cancun is Mexico's most visited tourist destination and boasts over twenty-five thousand hotel rooms. There's golf, tennis, lots of shopping facilities and a remarkable biodiversity. There are four hundred seventy-five bird species, over a hundred different mammals and twelve hundred plant species.
The beautiful ocean is home to over two thousand five hundred marine species with five hundred different tropical fish.
Cancun is located in the State of Quintana Roo at the most southern tip of the peninsula. It is divided into two sections: the Hotel Zone [Zona Hotelera] which is a 22 km sandy strip of land between a lagoon and seaside hotels located on Cancun Island and Cancun City/Downtown [El Centro] which is home to the many Mexicans who live in the district. Downtown is located on the mainland.
Have a question? Or want to list your timeshare with American Vacation Marketing
Get in touch